Hello! Thank you for visiting.
My name is Ksenia Benifand. I am a social researcher, futurist, and systems designer working on societal transition to a regenerative economy, climate justice, and gender equality.

Over the last decade, I have been working with multinationals, governments, start-ups, and non-profits connecting Strategic Foresight and Human-Centered Design with on-the-ground social impact & behavior change.
My work spans across many areas including helping corporations plan and achieve their sustainability & social impact commitments; designing policy for community-based well-being; regenerative design and Circular Economy transition; and more recently working on community resilience projects for disaster management and climate adaptation.
I work with communities, organizations and governments to gain deeper insights about user & ecosystem needs, pinpoint strategic interventions, co-design solutions, and facilitate iterative prototyping and testing to bring strategy to implementation.

I am a graduate from OCAD University with a Master of Design (M.Des) in Strategic Foresight and Innovation, and a BA, International Development, University of Guelph.
CLIMATE JUSTICE + TECH FOR GOOD

The Climate Action Summit took place on Feb 1, 2020 to unite local communities, artists, entrepreneurs, developers, scientists and engineers, to come together and prototype solutions for our climate resilient future, addressing several UN Sustainable Development Goals, including Climate Action, Inequality, Sustainable Communities, and Partnerships.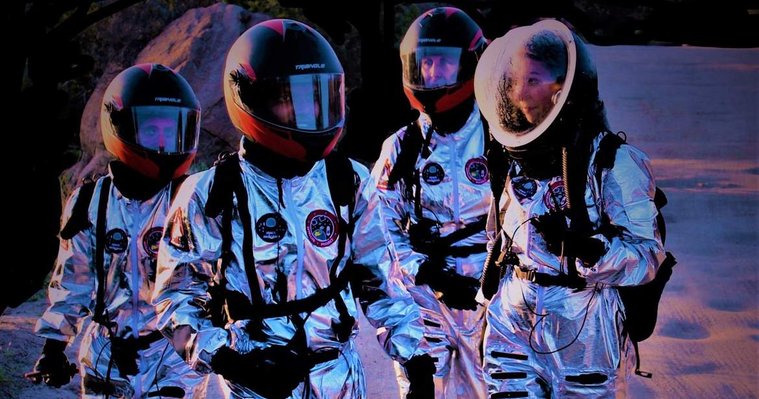 IMMERSIVE FUTURES + SPACE TECH

Immersive Futures Mars settlement experiences, where I am participating in several analog missions to simulate living and working environments on Mars focusing on Space Medicine, Search and Rescue activities, Health and Wellness, Biotech, Virtual Reality and other exponential technologies with Mars Academy USA. You can see more about this work here.
ENGAGEMENT + COLLECTIVE IMPACT

The Rising Women Collective is an international community of women who are exploring, working on, and manifesting social change within our local communities and worldwide.
We are agents of change working across many different domains and disciplines including education, healthcare, public policy, design, fashion, engineering, entrepreneurship, industry expertise, arts & media, climate change resilience, finance, space exploration, management, and science and technology.
Working in Liminal Spaces

I spent my life and professional career navigating liminality - the transitory, in-between state, between what was and what could be, a space characterized by ambiguity, messiness and hybridity. This deepened my understating & embodiment of ontological design & the complex interconnections and influences between individuals and their contexts, cultures and relationship with communities.
As a futurist, this has also inspired me to investigate these dynamics through an embodied speculative futures lens. As part of this journey, I have been exploring impact of human connections for collaborative action in diverse contexts. This inquiry has led me to participate in analog astronaut Mars Simulation missions, where diverse multidisciplinary teams are subject to living in isolated, confined, and extreme (ICE) environments, and testing equipment procedures, human factors and workflows relevant to future human-robotic space exploration missions.
Space is the ultimate unknown, and our attempt to study human behaviors in analog conditions can teach us about our human needs, limitations,and capabilities to adapt to new environments. As a result of my research, I designed a VR application to help build trust, authentic relations, and develop crew cohesion& deepen resilience.
I am currently working as a Research Affiliate at the Institute for the Future (IFTF) in Palo Alto, California.

In addition, I am collaborating with AI ethics specialists researching how we might integrate participatory community engagement into machine learning (ML) pipelines for addressing climate change impacts and building sustainable & resilient livelihoods.
Want to know more about me and my work?
Take a look at some of the things my clients and colleagues have said about my work here. Also take a look at some examples of my work.
You can also connect with me on Twitter, I post tweets about best practices in the foresight and innovation field, new technologies, and ideas for social innovation in healthcare and sustainability.

I look forward to getting to know you more! I hope we can be in touch.
Warmly,
Ksenia Benifand